Multi Function Display (MFD)
01D-032731

 Download product data sheet.
The MFD is a rugged, light weight display with integrated switch panel designed to provide context sensitive pages to control complete vehicle systems whilst displaying system data, alarms, and statistics.
It features a large, high resolution TFT VGA display with a backlight which can be adjusted over a wide range so that the display is easily visible in a vehicle during bright sunlight and at night.
Key Features:
6.5 inch display

640 x 480 pixels

65, 536 colour

12 user programmable switches linked to the page being displayed

8 high side drive outputs
There are a further seven dedicated switches:
Page Up, Page Down, Mode

PTT

Stage

Indicate left, Indicate right
All switches have multi-colour LED backlights to show switch state.
The display has eight software controllable HSD outputs suitable for driving cockpit lights, indicators, brake lights, etc. The display can receive a stream of data over either serial or CAN and is compatible with Cosworth data logger and controller products. e.g. Sigma LLB or MQ12 Engine Controller.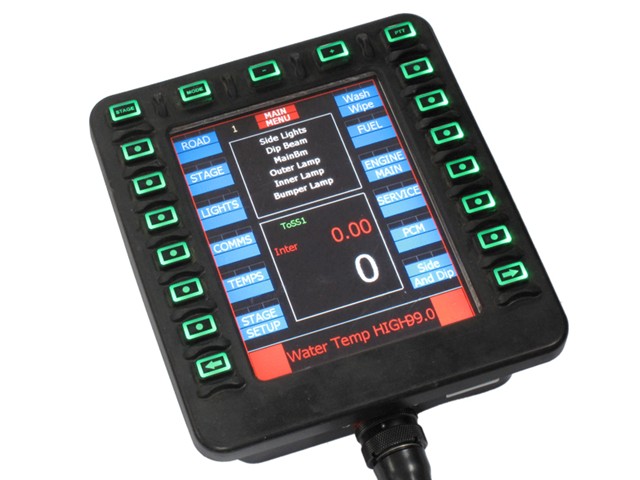 > Click image to enlarge
TOTAL: 1 - files
File: Multi Function Display (MFD)
Size: 60 KB
Download